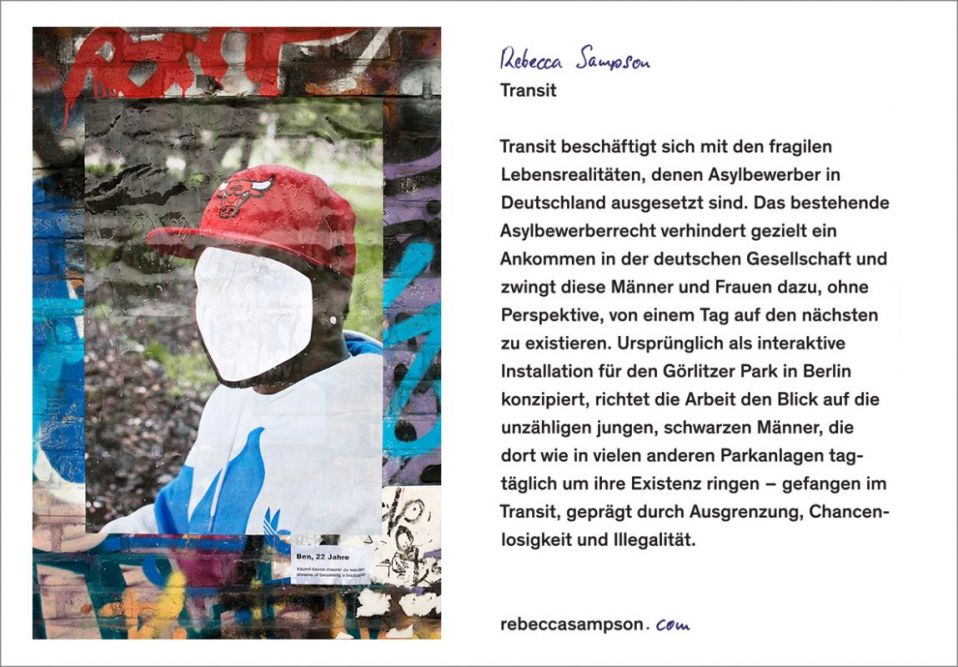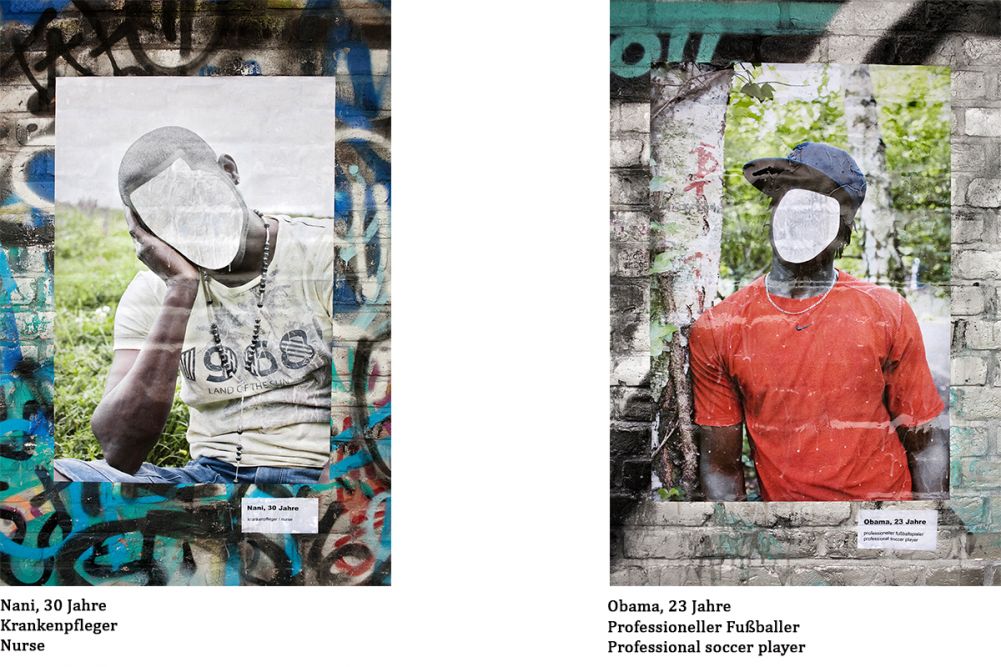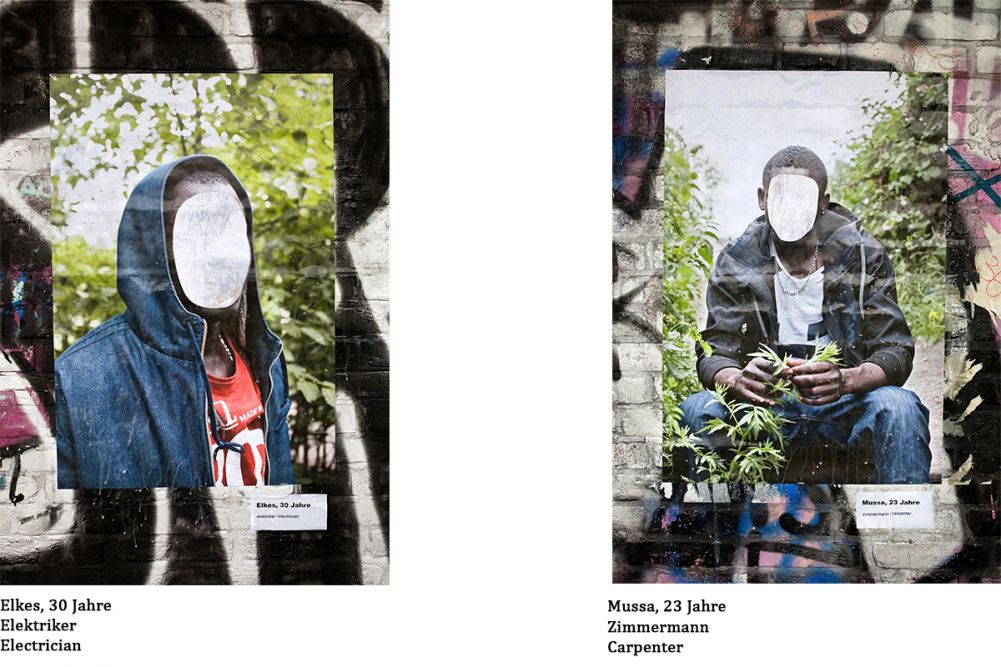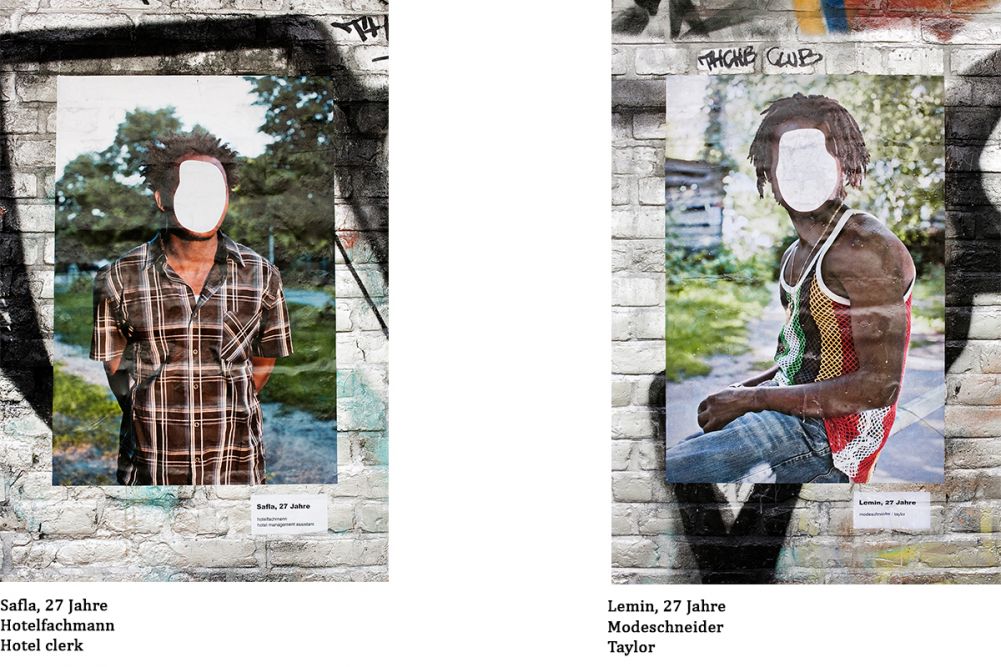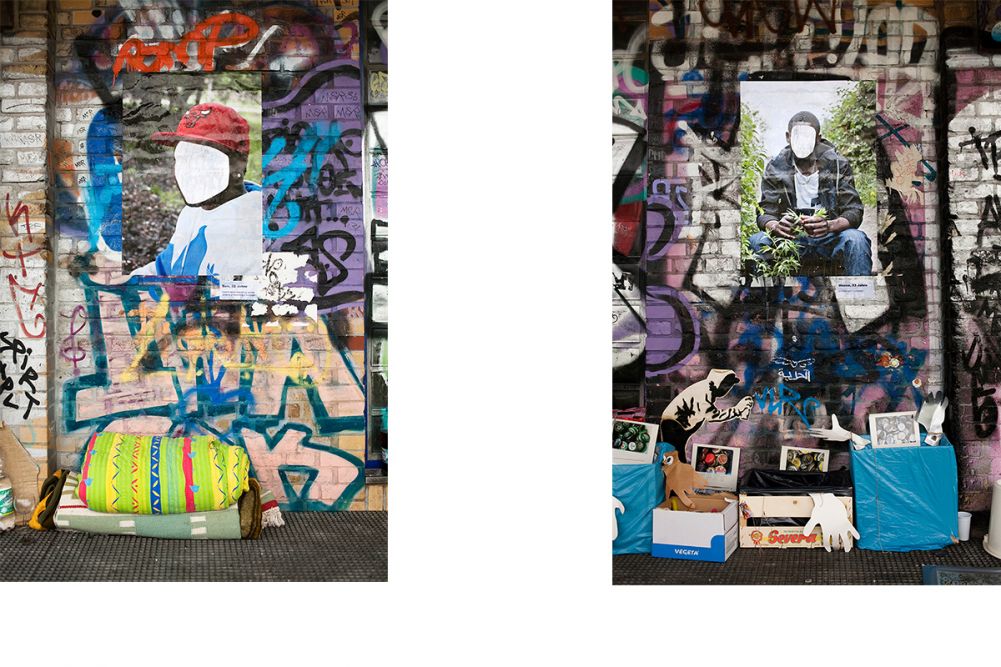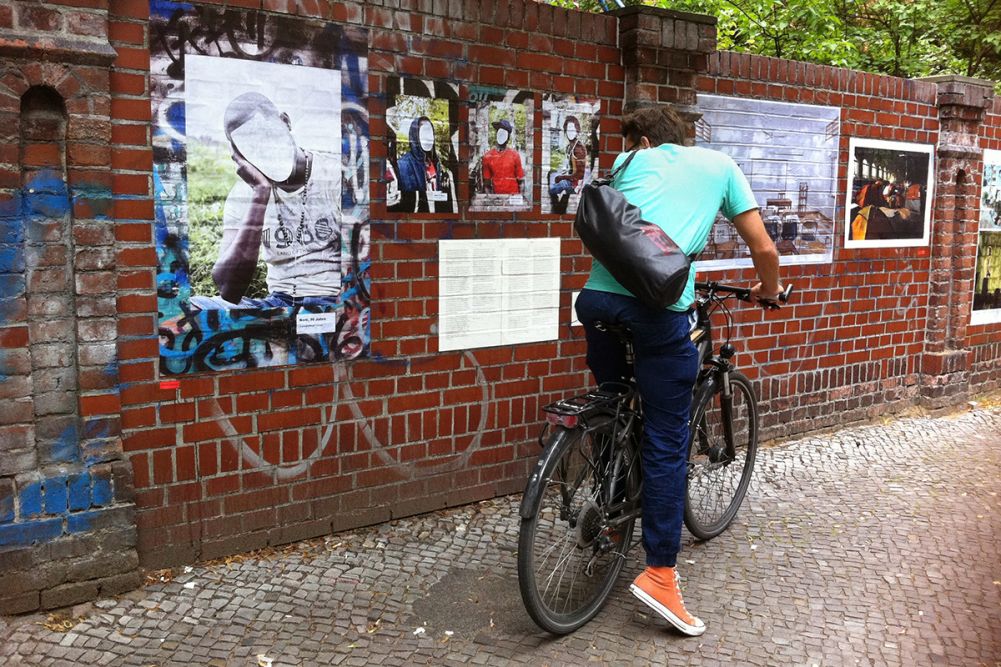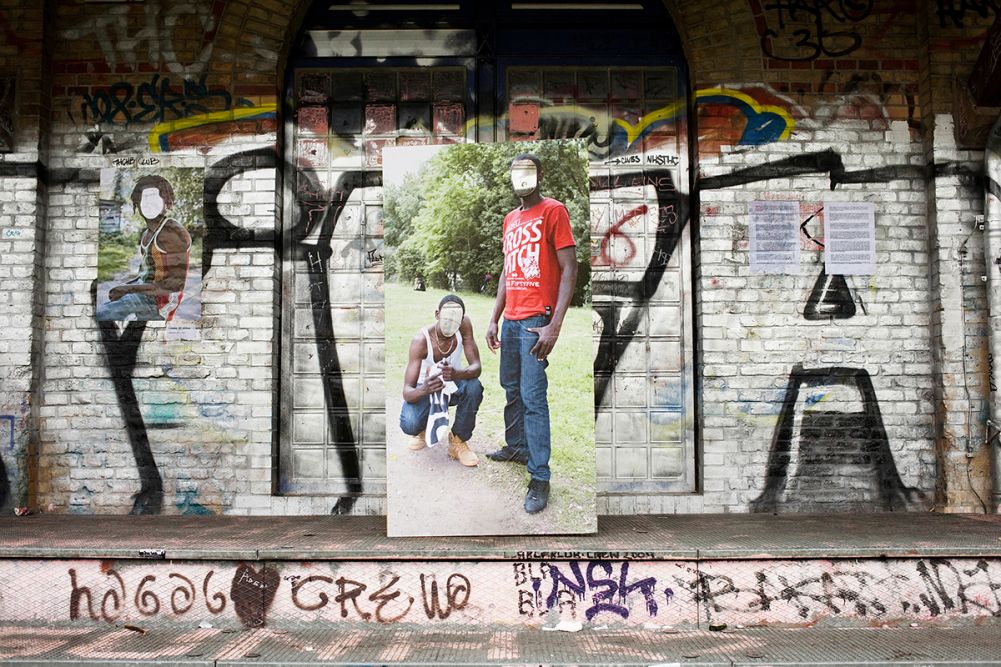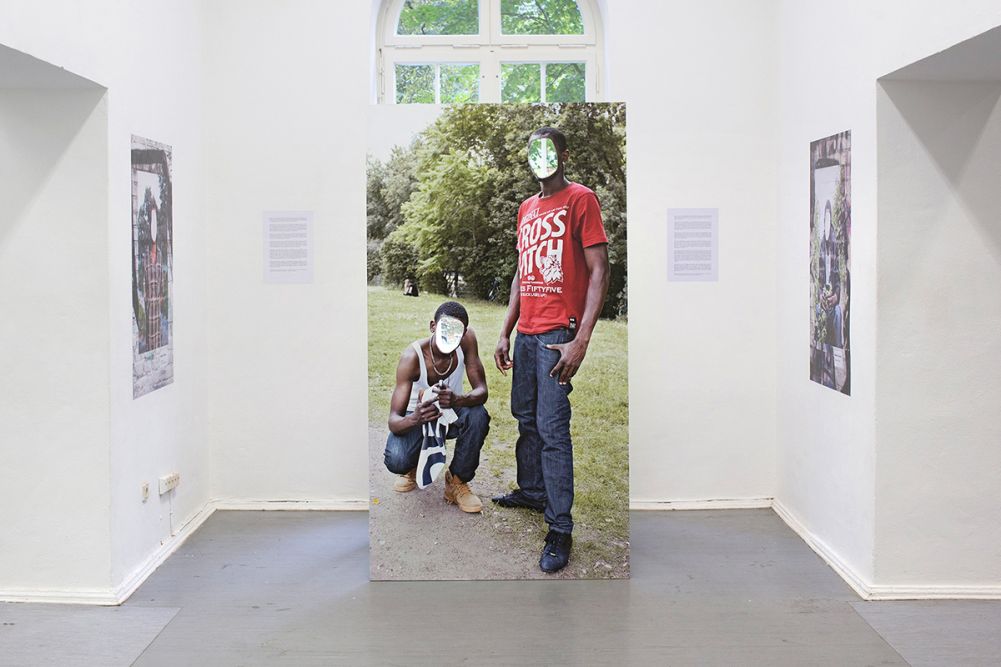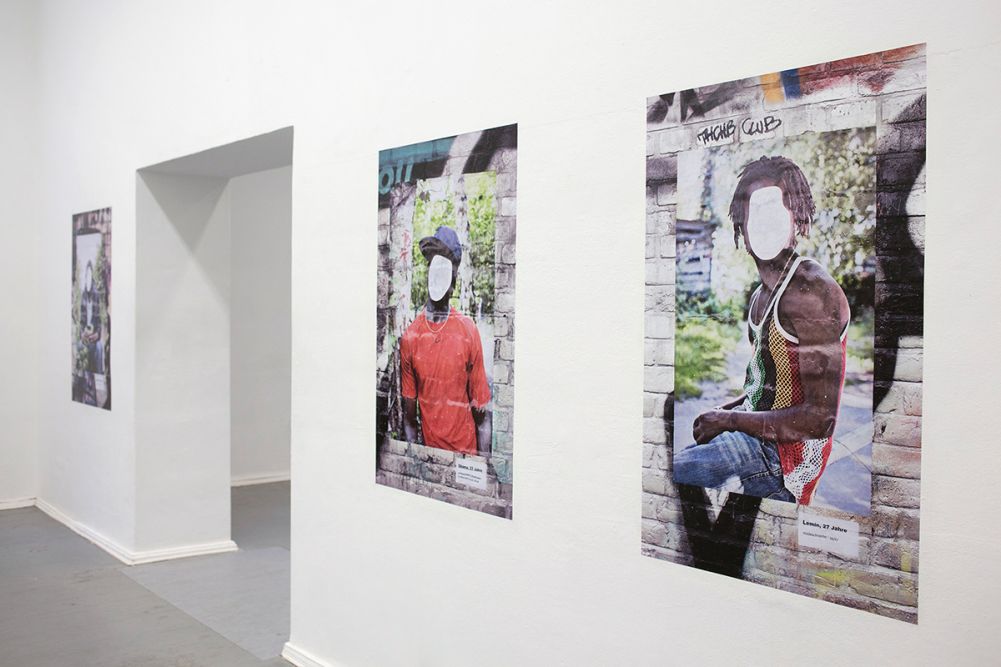 Transit deals with the fragile existence that asylum seekers in Germany must live. Current asylum seeker law specifically prohibits the people of certain countries from arriving in Germany, let alone applying for official refugee status. And so, those who make it (e.g. from Senegal) are invisible refugees, forced to live without voice or prospects, from one day to the next. Originally conceived in 2012 as an interactive installation for the Görlitzer Park in Berlin, the work focuses on the countless young, black men who struggle for their existence there every day, and in most cases turning to selling drugs - caught in transit, marginalised and without a chance.
Installation consisting of:
Seven photographs on affiche paper, 60 cm x 90 cm, wallpaper paste on brick wall
A stand with 2 holes, affiche paper on wood
Text
July / August 2012, Görlitzer Park, Berlin, Germany
Transit beleuchtet die fragile Lebenswirklichkeit, der Asylbewerber in Deutschland ausgesetzt sind. Das bestehende Asylbewerberrecht verwehrt diesen Männern und Frauen gezielt ein Ankommen in der deutschen Gesellschaft und zwingt sie dazu, ohne Perspektive von einem Tag auf den nächsten zu leben. Ursprünglich 2012 als interaktive Installation für den Görlitzer Park in Berlin konzipiert, richtet die Arbeit den Blick auf die unzähligen jungen, schwarzen Männer, die dort wie in vielen anderen Berliner Parkanlagen tagtäglich um ihre Existenz ringen und nicht selten die Grenzen des Legalen überschreiten– gefangen im Transit, ausgegrenzt und chancenlos.
Installation Görlitzer Park, Berlin Kreuzberg, Juli/August 2012.
- Sieben Fotografien auf Affichen Papier, 60 cm x 90 cm, Tapetenkleister auf Ziegelwand
- Ein Aufsteller mit 2 Löchern, Affichen Papier auf Holz
- Texttafel